Adding these renovations is certain to be worth your time and money…
What renovations will have the biggest impact on your home and increase its value? Remodeling your home can be a huge undertaking so you want to be sure that you make the right decisions on the road towards bettering your home. Here, David Pangione discusses 5 home renovations that will increase your homes value.
BUILD A HOME ADDITION
Here in Bergen County New Jersey, I am finding that more than ½ of my customers are hiring us because their families are growing. If your family is growing then so should your home. Perhaps you should consider a home addition to add value to your home.
Any type of home addition will help increase the value of your home. Some of the more common home additions that I add to our customer's homes are family rooms, kitchen additions, master suites, bathroom suites and the most common for my customers is a complete top floor add a level. Adding any one of these home additions is sure to help increase your homes value.
      2. ADDING A SECOND FLOOR
Commonly referred to as an Add a Level, Second Story Addition or even Raising the Roof, this can fit into the 1st item of home additions however since it is my specialty, I want to touch on it a bit more. A second story addition is literally doubling the size of your home in one remodel. Instantly the homeowner has doubled the square footage. Most people interested in this extreme remodel are usually young families that need more room – a lot more room. Also, I find that most owners that choose to go the add a level route have come to terms that they really enjoy the neighborhood, neighbors and local schooling system. They then realize that they can convert their tiny home into a much more spacious house by relocating the bedrooms and 2 baths upstairs. This then allows them to open the 1st floor up to create more of an area for entertaining. By performing a simple comp analysis of the surrounding homes, you can determine if adding a second floor will make it worth investing your money into. If the analysis proves positive, then it will be extremely favorable to you and your family to expand upwards thus creating value for your home.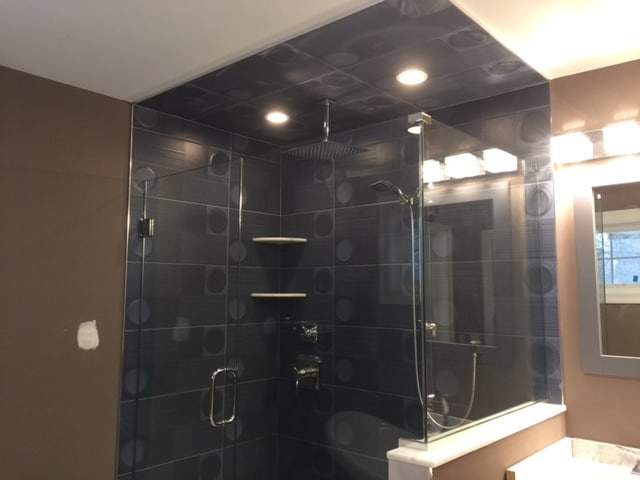 3. UPGRADE / INSTALL A MASTER BATHROOM
For any home, the master bathroom is considerably one of the most important selling points. A master bathroom adds value to any home. The larger and more efficient the space- the better. His and her sinks are a must. Also, make sure there is a beautiful master shower. I am finding that most of my custom master shower units we are installing have lots of spray heads such as a ceiling rain head as well as a wall hand held that backs as a shower head when placed on the shower bar holder. For a nice touch, each volume control that operates each rain head, hand held etc can be thermostatically controlled with a temperature control valve. This allows you to set your own temperature to the setting that you are comfortable with. By have multiple temperature control valves, each user can have their own setting.
Soak tubs are making a comeback. Jacuzzis are out- sorry to say. Homeowners are opting for self standing soak tubs coupled with self standing faucets. It's a really nice look for any master bathroom.
If your bathroom space allows for it, have a separate room for the water tank. A separated toilet area also allows privacy and value to the master bathroom.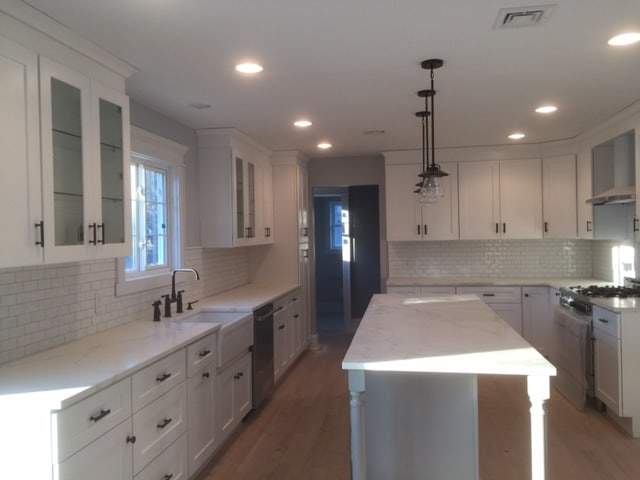 4. REMODEL THE KITCHEN
If you want my #1 remodel selection that adds value to the home, then it would be the kitchen. It is top priority for all of my customers. With so many kitchen features that are making a kitchen stand out, the kitchen is definitely the hub for any home. As a centerpiece for conversation and family meeting, a kitchen remodel will add value to your home. Often times a homeowner will open a wall or 2 near the kitchen in order to maximize space and flow. This allows you to create a larger layout. A larger layout usually incorporates a sizable kitchen island. In the kitchen island, we are installing our built in microwave ovens, wine coolers and even a vegetable sink. If you are considering a kitchen remodel, you are definitely on the right track for adding value to your home.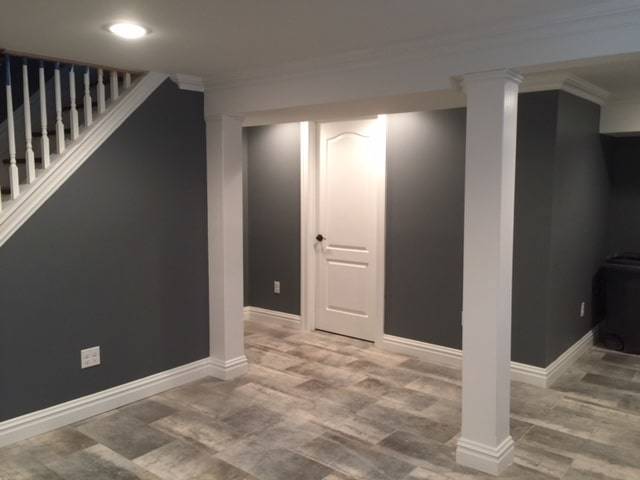 5. BASEMENT REMODEL
I can't stress enough how many of my customers are remodeling their basements. It is space that really can be utilized if designed properly. Believe it or not, I am always told by my customers that their remodeled basement will be used for an entertaining area for their kids. If the basement is large enough, we also install entertainment / media rooms. With beautiful ceramic plank flooring and oversized moulding schemes, you can make your finished basement into a neat retreat for the kid and guests. It is said that a finished basement increases your chances of selling your home and increases your homes value.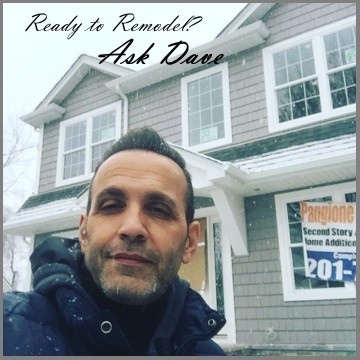 About David Pangione:
David Pangione is a 3rd generation home builder. Growing up in a family of boys, since his early days beginning as young as 4 years old, David's mom would drop David off at the jobsites with his dad. If you ever had 4 young boys running around the house, you probably could understand why she did this. It was a bit of a relief I would say.
The drop offs became routine and over the years and thousands of homes later, David founded Pangione Developers Inc. A Major Home Remodeling company located in New Jersey, Pangione Developers Inc is a premier Bergen County Contractors specializing in Entire Home Remodels.
He also hosts a video channel on youtube called RemodelingHQ. Here David showcases over 900 Major Home Remodeling Videos. His channel is highly ranked on youtube for it's unique content.
David also provides a unique service via email for New Jersey homeowners thaat need answers for their home remodeling project.  His "Ask Dave" campaign has been providing New Jersey residents valuable insight for their home remodel all offered for free.
Other Resources: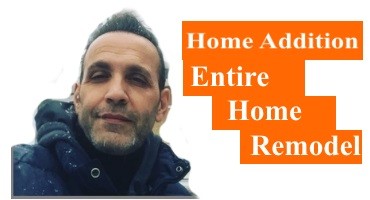 How Much Does A Home Addition Cost – Click Here