Complete Home Remodeling Contractors in New Jersey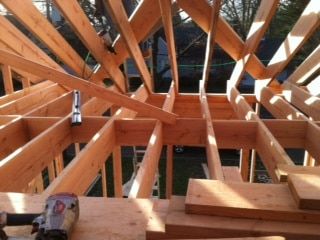 Complete Home Remodeling
Pangione Developers Inc specializes in complete home remodeling. What is complete home remodeling and why would you want to completely remodel a home? Complete home remodeling is where your home is more than 60 – 70% renovated. It usually entails stripping the home down to the core structure and rebuilding. The process is quite extensive. From an overhaul of the utilities including the heating and air conditioning to moving interior and exterior walls. Specializing in complete home remodeling throughout New Jersey, Pangione Developers Inc has refined the way home remodeling is performed. Our customers are amazed at the efficiency in which we move forward throughout each stage of the build process. Our company slogan, "We Make It Easy To Hire Us" has merit. Owner David Pangione has been building and remodeling homes all his life. Born into a family with a history of building, his roots stem deep with a knowledge of all phases of remodeling.
Remodeling Videos
David Pangione has created a YouTube channel "REMODELINGHQ". With over 650 home remodeling videos filmed on location throughout New Jersey. Here you can view all phases of a design & build project. Mr. Pangione states " Our channel gives the residents of New Jersey the opportunity to watch us with an over the shoulder view from the comfort of their homes." He continues saying, " From add a levels, home additions and complete home remodeling projects, you can view us real time, anytime with our channel giving you the customer an idea as too the efficiency and quality of our work. The feedback has been tremendous and I enjoy helping homeowners get a better understanding of how each stage is accomplished".
Home Remodeling
So let's touch on a few key topics related to complete home remodeling. Homeowners that remodel a major portion of their home usually do so after they realize that their family is outgrowing their current home. The options are either sell and move or remodel the existing home. "We find that homeowners will try to list their home for sale however the asking price is usually a bit if a deterrent and results in the home remaining unsold. Therefore, they call us for a complete home remodeling package".
Bedroom Additions
For starters, the main objective is to add more bedrooms. Within the bedroom package, the homeowners want to incorporate a master bedroom- bathroom package. Since the existing 1st floor bedrooms are removed to make room for the new open floor plan, the add a level will have all new bedrooms upstairs. Adding even more upstairs space.
Second Story Additions
How can we add even more upstairs space to our add a level or raised level project. If you have an attached garage and in some cases a detached garage you can build above that garage/s as well. If we incorporate a cantilever to the front, back or both this can add more floor space as well. A cantilever is an overhang that extends the upper floor out past the 1st floor walls below. More upstairs options:
Add a Level – Laundry
To make your complete home remodeling project more layout friendly, you can factor in a 2nd floor laundry. The laundry area is now being shifted to the upstairs and it only makes sense. With the addition of a laundry room or closet, homeowners aren't dreading the long walk down to the basement to complete their weekly laundry.
Open Foyer Remodel
How about building an open foyer entry. As you open the front door, look up to the 18' ceiling with large accent window. It makes the home look more rich and appealing as you enter.
Open Floor Plan Remodeling
Since the upstairs now has all of the bedrooms and main baths, the 1st floor remodeling can be packaged to involve a complete remodel. An open floor plan is the ultimate layout for most. The need for more room within the existing walls is our goal with a complete home remodel. Now that we are able to remove the existing bedroom walls, by installing either lowered or raised headers, we can now create that needed open area for entertaining and living space. The load and non load bearing walls can be renovated easily. At this point, we can address the kitchen and bath areas. After removing the 1st floor walls, the existing bath and kitchen locations may not make sense. In fact, you may even want more room by adding a family room addition or kitchen addition. Either way, Pangione Developers Inc will design the entire layout according to your specs and budget. Oh yeah, have we forgot about the #1 priority which evolves around each and every job? Can you guess what it is? If you guessed budget then you guessed correctly.
Remodeling Budgets
Meeting your budget is where Pangione Developers stands out above the rest. First of all, with a deep understanding of all the elements throughout the project, Pangione Developers doesn't believe in the "nickel and diming" approach. We like to provide a price that is ALL INCLUSIVE and most importantly meets you budget needs. We understand that you will want many of the items that perhaps weren't mentioned in the initial consultation such a recessed lighting, hardwood flooring or even shutters on the front of your newly sided home. Our package prices include more for less. Our streamlined build approach is designed to provide the best package price for less. Our goal is to build your remodeling package within our stated time which is listed in our industry own "Project Stages Form". Here in writing we provide our customers with assurance that they will have us working from the listed start date up to completion all mentioned in writing. Owner David Pangione states, " Our Project Stages Form provides each and every one of our customers with a piece of mind regarding a start and finish date. It breaks down the entire design and build process according to its stages enabling our customers to visualize how the job proceeds and when the job will be finished- and that is in writing". However, touching on the budget aspect a bit more, each and every homeowner has a budget that cant be exceeded. Pangione Developers will provide an all inclusive bid that doesn't include any hidden costs so to speak. Our easy to read remodeling contracts break down the entire process so that any item can be easily identified. This break down approach allows for easy reading and comprehension making the process that more enjoyable. Photos – Click Here At Pangione Developers, our goal is to provide an easy integration of design & build for the families to enjoy and have a great experience. We eliminate any uncertainty with advanced notice and excellent preplanning. This enables us to execute the build in an exceptionally fast manner. For more information call (201) 774-3733. Click here for FAQ Click here for Company Specials Click here for our Video Site