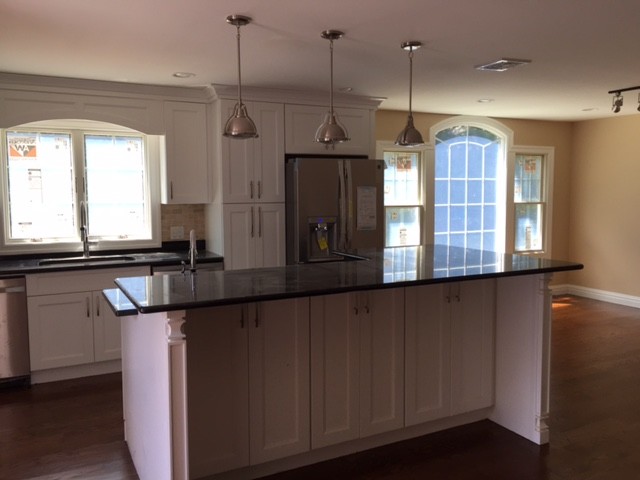 A kitchen is the one room in the home that is used the most by a family. Therefore, it only makes sense that it can be your biggest investment. If you live in New Jersey, whether you are remodeling your kitchen, expanding or both, Pangione Developers Inc offers complete kitchen remodeling for our customers.
When we remodel our customers homes, reconfiguring the 1st floor involves removing many walls and often enough we will design & build an addition to the 1st floor to expand for a larger footprint and living space. This expanded living space usually incorporates the larger kitchen. Remodeling your kitchen need not be a complicated process. Pangione Developers Inc will offer a full kitchen remodeling experience. From design to build, our kitchen build experience is seamless.
When building home addition and add a level packages, our homeowners have one objective which is to create a beautiful kitchen within their budget. Did you know that 90% of our projects involve remodeling / expanding the existing kitchen. Our team will provide everything you need in order to create a great kitchen build experence. Our suppliers offer the most affordable prices on cabinetry, coutertops and appliances. See our blog for more…
The kitchen design process is simple. Once we know the size of the new kitchen, we will design the entire layout according to your specs and needs. When the kitchen layout is finalized, our team will then put into place the electric, plumbing, HVAC that is necessary prior to closing the walls with insulation and sheetrock. Your selected cabinetry will then be installed once the flooring is put in place. Pangione Developers takes care of the entire kitchen construction process. As we near the end of your kitchen build, your selected crown moldings are installed aloing with the backsplash. the final stage is for the appliaces to be delivered. Yes, Pangione installs the appliances as well. All final connection to your kitchen appliances will be made as our team wraps up your kitchen installation.
Contact Pangione Developers Inc for a FREE consultation. For more information or FAQ you can call (201) 774-3733