NJ Bergen County NJ General Contractors must be registered with the state to do residential remodeling. 
In the state of New Jersey, NJ Bergen County NJ General Contractors are required to be registered with the Division of Consumer Affairs as a registered home improvement contractor. The license allows that contractor to work within the state of New Jersey for that year which will be specified on the license itself. This registration process is to occur yearly for a fee.
For any general contractor in Bergen County NJ, they will need to undergo this registration process. Keep in mind that even though the contractor registers, it doesn't guarantee that his company is competent in doing business in an ethical manner or even providing its customers with satisfactory work.
There are other ways to certify that the construction company you want to hire in Bergen County NJ are capable of completing your home remodeling project. With some due diligence, you can find the right construction company to take on your home remodeling project in Bergen County New Jersey.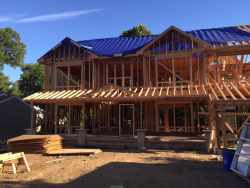 Proper Due Diligence When Hiring General Contractors in Bergen County NJ
 The 1st Step: Meet With General Contractors in Bergen County NJ
The very 1st thing you need to do is meet with general contractors in Bergen County. Discuss what type of construction project your family will need. Keep in mind that when you meet with several construction companies, make sure you discuss the same scope of work this way the bids will all be similar especially when discussing major home remodleing projects such as Home Additions.
The 2nd Step: Questions:
I know we are moving fast. You need to keep in mind that not all General Contractors are suitable for every project. Just remember that if you want to remodeling the entire home in Bergen County NJ, then you want to find a contractor in Bergen County NJ that specializes in entire home remodeling or Add a Levels. Obviously you wouldn't want to hire a construction company that only remodels bathrooms and or kitchens to strip your entire home down – right?
Anyway, now that we are past that simply create a list of questions so that you can ask your contractor item by item the things you are concerned about.
Here are some questions to ask that can get your list going:
Have they done work before in Bergen County NJ? If so have they done work specifically in your town?
Another big question to ask as touched on before. Has the contractor done similar work as yours before? If so, follow up with- How long ago? If they did something similar a few years back, that wouldn't be a positive in my book. Ultimately you want your general contractor to specialize in the ame type of job that your requesting to be built
NJ Bergen County NJ General Contractors – additional questions

How long will it take for a job like yours to be completed?
Is there a warranty? If so- what is covered?
Do you have insurance?
When could you expect a written bid?
 Pangione Developers Inc is a premier General Contractor in Bergen County NJ. We are A+ rated with the Better Business Bureau as a New Jersey Accredited Business. With over 900 Major Home Remodeling Videos on our Youtube channel, owner David Pangione hosts youtubes top rated home remodeling channel                             " RemodelingHQ".
 Bonus Questions: So we provided some questions above. However here are a few more to build your list.
–Is there a payment structure?
Every contract needs to have a payment structure. It keeps the job moving and provides comfort to the homeowner knowing that they only pay based on the work completed.
Here is a biggie. What is not included?
For the sake of the homeowner, hopefully everything is included. Here is where things could get tricky though. Contractors may configure the contract differently. One of the areas to focus on is allowances. Items in the bathrooms, kitchens, finished items such as flooring and tile as well. These items may all be included but to what degree. To the defense of the contractor, he doesn't know your taste and thus may over or under allow for the costs of these finish items. As long as the allowances are the middle of the road so to speak, it will be good for both parties. So checking on the allowance amounts can really put the final costs of your project into perspective. So check with your construction companies on your list regarding these items.

Who takes care of the construction permits?
Construction permits can cost thousands of dollars. Will your general contractors be responsible for supplying or will the homeowner. Many of the not so popular contractors in Bergen County will leave the costs out in order to underbid their competitors. The costs will then be pushed on you the homeowner so make sure this is spelled out. Also, unpermitted work can be stopped on the dime and come to a screeching halt. The last thing you want is a delay with the town.
Containers and rubbish removal.
You may not have thought of this one but don't take it for granted that removing the rubbish is included with the contract. There are stories of contractors presenting an invoice to homeowners in Bergen County for carting the garbage off of the remodeling site. Make sure this is clarified. You also want to make sure that the site is cleaned up regularly. Nothing is worse than a pile of debris sitting in front of a home.
Make sure that you choose contractors in Bergen County NJ that are registered with the Division of Consumer Affairs as a home improvement contractor.
 Tips and Thoughts About General Contractors and Construction Companies in Bergen County NJ
 Create A Plan When On How To Choose A Construction Company
There are several home builders on Bergen County NJ that you will be able to find. Reach out to them and discuss your remodel. You can save time and simply make phone calls to discuss over the phone. However, try sending out emails to your top general contractors of choice. From here, just narrow it down to the one you like after an actual meeting.
Create a job items list
Keeping the project requirements uniform is critical if you want the construction companies to provide offers based on the same scope of work. Create a list so that the general contractors can bid specifically on the items of concern. Once you receive the bids, you will able to judge which construction company gave you the best all around answers.
Don't Let Price Be The Deciding Factor
If you are basing your decision solely on price alone, then you are starting off on the wrong foot. There is always going to be someone that comes in with an unrealistic price. It will make you want to hire that contractor in Bergen County NJ on the spot however in the long run you will end up with overages that were not included, poor workmanship and a potentially unfinished project. Stay clear from the cheapees.
 Make Sure It Is In Writing
Get it in writing…. Get it in writing….. get it in writing. Did I make it clear?
You want your builder to present you with the entire project in writing. The construction project should be in fine detail from beginning to end. Also, make sure the payment structure is listed as well as the project warranty.
Excellent Communication
In this day and age, communicating with your general contractor should be effortless. As a general contractor, using email, text messaging and cell phones has created an advantage for me and my customers. Your general contractor should always keep you and your family connected with what is happening on the jobsite. You need to confirm that your selected general contractor in Bergen County NJ can use these communication tools efficiently.
 Final Walkthrough If Requested
Upon completion of your remodeling project, ask your construction company for a final walkthrough. If the contractor is reputable, then there shouldn't be any issues or minimal at most. If there are a few issues, set up a meeting onsite with your general contractor and discuss so that they can be resolved prior to the certificate of occupancy being issued.
Resources: General Contractors Bergen County NJ

Associations & Licensing for General Contractors in Bergen County NJ
BLSJ Builders Legue of South Jersey www.blsj.com
Metropolitan Builders & Contractors Association of NJ www.metrobca.org
NAHB National Association of Home Builders www.nahb.org
NJAA New Jersey Apartment Association www.njaa.com
NJBA New Jersey Builders Association www.njba.org
NJSA New Jersey Subcontractors Association www.njsubcontractors.org
SBACNJ Shore Builders Association of Central NJ www.shorebuilders.org
ABC Associated Builders and Contractors www.abc.org
ACCNJ Associated Contractors of New Jersey www.accnj.org
ABCNJC Associated Builders & Contractors of New Jersey www.abcnjc.org
ASA American Subcontractors Association www.assaonline.com
BCANJ Building Contractors Association of NJ www.bcanj.com
BCASJ Building Contractors Association of South Jersey
ZipCodes Of Towns That General Contractors in Bergen County New Jersey Work In:
 07601, 07602, 07603, 07604, 07605, 07606, 07607, 07608, 07620, 07621, 07624, 07626, 07627, 07628, 07630, 07631, 07632, 07640, 07641, 07642, 07643, 07644, 07645, 07646, 07647, 07648, 07649, 07650, 07652, 07653, 07656, 07657, 07660, 07661, 07662, 07663, 07666, 07670, 07675,
 Towns in Bergen County NJ That Top NJ General Contractors Work In:
Allendale, Alpine, Bayonne , Belleville , Bergenfield , Bloomfield , Bogota , Caldwell , Carlstadt, Cedar Grove , Cliffside Park , Clifton , Closter, Cresskill, Demarest , Dumont , East Rutherford , Edgewater , Emerson , Englewood Cliffs , Englewood Cliff, Englewood , Fair Lawn , Fairfield , Fairview , Fort Lee , Franklin Lakes, Garfield , Glen Ridge , Glen Rock , Guttenberg , Hackensack , Harrington Park, Hasbrouck Heights , Haworth , Hawthorne , Hillsdale , Ho Ho Kus, Hoboken , Jersey City , Leonia, Little Falls , Little Ferry, Livingston , Lodi , Lyndhurst, Mahwah , Maywood , Midland Park , Millburn , Montclair , Montvale ,
Additional Towns in Bergen County NJ
Moonachie , New Milford , North Bergen , North Arlington , Northvale , Norwood , Nutley , Oakland , Old Tappan , Oradell, Palisades Park, Paramus, Park Ridge , Pompton Lakes , Ramsey , Ridgefield Park , Ridgefield , Ridgewood , River Edge , River Vale , Rivervale , Rochelle Park , Rutherford , Saddle Brook , Saddle River, Secaucus , Short Hills , south Hackensack , Springfield , Teaneck , Tenafly, Teterboro , Totowa , Union City , Upper Saddle River , Verona , Waldwick, Wallington , Washington Township , Wayne , Weehawken , West New York , West Orange , Westwood , West Caldwell, Wood Ridge , Woodcliff Lake, Wyckoff, Newark, somerset, toms river, Trenton, wayne, brick, chatham, cherryhill, clark, Clinton, Edison, Florham park, freehold, hailton, hillside, Jackson, jersey city, Lakewood, Livingston, Manalapan, marlton, Middletown, morris plains, Princeton, Rochelle park, somerset
General Contractors – Bergenfield NJ
Pangione Developers Inc  Bergenfield NJ 07621
General Contractors – Bogota NJ
Pangione Developers Inc Bogota NJ 07603
General Contractors – Carlstadt NJ
Carlstadt NJ 07072 Pangione Developers Inc
General Contractors – Cliffside Park NJ
Pangione Developers Cliffside Park NJ 07010
General Contractors – Closter NJ
Pangione Developers Inc Closter NJ 07624
General Contractors – Cresskill NJ
Pangione Developers Inc Cresskill NJ 07626
General Contractors – Demarest NJ
Pangione Developers Inc Demarest NJ 07627
General Contractors – Dumont NJ
Pangione Developers Dumont NJ 07628
General Contractors – East Rutherford NJ
Pangione Developers Inc East Rutherford NJ 07073
General Contractors – Edgewater NJ
Pangione Developers Inc Edgewater NJ 07020
General Contractors – Elmwood Park NJ
Pangione Developers Inc Elmwood Park NJ 07407
General Contractors – Emerson NJ
Pangione Developers Inc Emerson NJ 07630
General Contractors – Englewood NJ
Pangione Developers Inc Englewood NJ 07631
General Contractors – Englewood Cliffs NJ
Pangione Developers Inc Englewood Cliffs NJ 0763
General Contractors – Fair Lawn NJ
Pangione Developers Inc Fair Lawn NJ 07410
General Contractors – Fairview NJ
Pangione Developers Inc Inc Fairview NJ 07022
General Contractors – Fort Lee NJ
Pangione Developers Inc Fort Lee NJ 07024
General Contractors – Franklin Lakes NJ
Pangione Developers Inc Franklin Lakes NJ 07417
General Contractors – Garfield NJ
Pangione Developers Inc Garfield NJ 07026
General Contractors – Glen Rock NJ
Pangione Developers Inc Glen Rock NJ 07452
General Contractors – Hackensack NJ
Pangione Developers Inc Hackensack NJ 07601
General Contractors – Harrington Park NJ
Pangione Developers  Harrington Park NJ 07640
General Contractors – Hasbrouck Heights NJ
Pangione Developers Inc Hasbrouck Heights NJ 07604
General Contractors Haworth NJ
Pangione Developers Haworth NJ 07641
 General Contractors – Hillsdale NJ
Pangione Developers Hillsdale NJ 07642
General Contractors – Ho Ho Kus NJ
Pangione Developers Ho Ho Kus NJ 07423
General Contractors – Leonia NJ
Pangione Developers Leonia NJ 07605
General Contractors – Little Ferry NJ
Pangione Developers Little Ferry NJ 07643
General Contractors – Lodi NJ
Pangione Developers Inc NJ 07644
General Contractors – Lyndhurst NJ
Pangione Developers Inc Lyndhurst NJ 07071
General Contractors – Mahwah NJ
Pangione Developers Inc Mahwah NJ 07430
General Contractors – Maywood NJ
Pangione Developers Inc  Maywood NJ 07607
General Contractors – Midland Park NJ
Pangione Developers Inc Midland Park NJ 07432
General Contractors – Montvale NJ
Pangione Developers Inc Montvale NJ 07645
General Contractors – Moonachie NJ
Pangione Developers Inc Moonachie NJ 07074
General Conotractors – North Arlington NJ
Pangione Developers Inc North Arlington NJ 07031
General Contractors – Northvale NJ
Pangione Developers Inc Northvale NJ 07647
General Contractors – Norwood NJ
Pangione Developers Inc Norwood NJ 07648
General Contractors – Oakland NJ
Pangione Developers Inc Oakland NJ 07436
General Contractors – Old Tappan NJ
Pangione Developers Inc Old Tappan NJ 07675
General Contractors – Oradell NJ
Pangione Developers Inc Oradell NJ 07649
General Contractors – Palisades Park NJ
Pangione Developers Inc Palisades Park NJ 07650
General Contractors – Paramus NJ
Pangione Developers Inc Paramus NJ 07652
General Contractors – Park Ridge NJ
Pangione Developers  Inc Park Ridge NJ 07656
General Contractors – Ramsey NJ
Pangione Developers Inc Ramsey NJ 07446
General Contractors – Ridgefield NJ
Pangione Developers Inc  Ridgefield NJ 07657
General Contractors – Ridgefield Park NJ
Pangione Developers Inc Ridgefield Park NJ 07660
General Contractors – Ridgewood NJ
Pangione Developers Inc Ridgewood NJ 07450
General Contractors – River Edge NJ
Pangione Developers River Edge NJ 07661
General Contractors – River Vale NJ
Pangione developers River Vale NJ 07675
General Contractors – Rochelle Park NJ
Pangione Developers Rochelle Park NJ 07662
General Contractors  Rutherrford NJ
Pangione Developers Rutherford NJ 07070
General Contractors – Saddle Brook NJ
Pangione Developers Saddle Brook NJ 07663
General Contractors – South Hackensack NJ
Pangione Developers South Hackensack NJ 07606
General Contractors – Teaneck NJ
Pangione Developers Teaneck NJ 07666
General Contractors – Tenafly NJ
Pangione Developers Tenafly NJ 07670
General Contractors – Teterboro NJ
Pangione Developers Teterboro NJ 07608
General Contractors – Saddle River NJ
Pangione Developers Saddle River NJ 07458
General Contractors – Waldwick NJ
Pangione Developers Waldwick NJ 07463
General Contractors – Wallington NJ
Pangione Developers Wallington NJ 07057
General Contractors – Washington Twp NJ
Pangione Developers Washington Township NJ 07676
General Contractors – Westwood NJ
Pangione Developers Westwood NJ 07675
General Contractors – Wood Ridge NJ
Pangione Developers Wood Ridge NJ 07075
General Contractors – Woodcliff Lake NJ
Pangione Developers Woodcliff Lake NJ 07677
General Contractors – Wyckoff NJ
Pangione Developers Wyckoff NJ 07481