Remodeling Services – New Jersey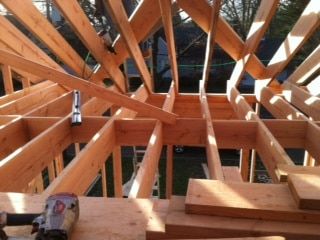 Design & Build Contractors in New Jersey
When a family hires Pangione Developers to build an Add a Level or Home Addition, the projects that we design & build involve extensive home remodeling throughout the house. Many of our customers hire us to remodel their entire home.
Add a Level – Second Floor Contractors
On add a level projects, we take the roof off of the home and from the floor up,we install all new bedrooms and bathrooms on the new second floor addition. On the existing 1st floor, we then remodel a majority if not all of the 1st floor. The existing kitchen and bathrooms are remodeled with all new materials. Many of the existing interior walls are removed to create an open floor plan layout.
Home Remodeling Packages
Kitchen Renovations/ Expansions
One of the more popular packages that we offer is a home remodeling with a kitchen expansion / renovation included. If you are building an add a level, most of the packages that we price includes creating on open floor plan. As the bedrooms get relocated upstairs, now the 1st floor gets opened up. It's deceiving at 1st for the home owners to envision the floor opened up however now, you can create a larger kitchen since some of the surrounding walls have been taken down.
Home Additions
Another alternative is a very popular option which homeowners build an addition out the back or side of the home. Expanding your kitchen in that direction also allows you to create a large family room as well. The existing rear wall of the kitchen can be removed to create a much larger kitchen floor plan even allowing for a large center island. Pangione Developers Inc builds many kitchen remodeling projects each year. Probably more than your average kitchen remodeling company that specializes in kitchen cabinetry. Our volume allows us to pass off discounts on kitchen countertops and deep discounted cabinetry for our customers…..Read More
Bathroom Renovations
As a home remodeling specialist, we average 2-3 bathrooms renovations / expansions per project. With most add a levels projects including 1 standard bathroom and 1 master bathroom suite, the existing 1st floor bath is renovated to become either a new full or 1/2 bath combination for the 1st floor. Our bathroom remodeling system allows us to seamlessly build your bathroom exactly the way that you want it to be built. We coordinate all material purchases and patterns as well as fixture types so that the homeowners get exactly what they want. Our coordination efforts eliminate any downtime since our advance notice provides enough time for the homeowners to decide upon each elemant of the bathroom remodeling without a rush. ……Read More
Roofing
Each add a level and home renovation involves a new roofing system. Only the best materials are used throughout and that includes your new 30 year roofing shingle. There are 2 types of shingle that are most commonly used. Either a 3 tab roofing shingle or a dimensional shingle which is the most common are used however the customer makes the final decsion on all finished selections. …..Read More
Siding
Your New Jersey home deserves the best exterior materials and the siding used to finish the exterior should hold up to all weather conditions. As a Bergen County Contractor serving all of New Jersey, we find that homeowners are leaning towards a combination of a few different exterior finish materials. Although there are several types of exterior finishes, most homeowners tend to install vinyl siding. Vinyl siding applications have advanced over the years. The vinyl products and accessories can add an amazing amount of detail to a home with the siding application. Between the vinyl accessories, vinyl cedar impressions and even highlighting a small area with decorative stone, your vinyl sided home can stand out from the rest of the block…..Read More
Windows
A home remodeling project usually always involves adding windows throughout some or all of the remodeling project. If you are matching existing windows, there are several choices that allow you to closely match your existing window with eisther a vinyl, wood or aluminum framed window. Installing energy efficient windows is a main priority. Not only do new energy efficient windows add value to your home but they also help you save money in energy savings. In most home remodeling projects, we will remove all of the existing windows and then replace them with larger, energy efficient, low E high performance windows. Read More…..
Doors
Your home remodeling should not be without new exterior doors. LIke new windows, doors are also high performance and made in a way that save you energy and increase the value of your home. A large series of french door or sliding units can really help your home aesthetically out back. In the front of your home, their are many differnet styles of doors to choose from. From double wide units, to units with a sidelite on either one or both sides of the door can make your home have the curb appeal it lacked before. Read More…..
Architectural Stone Accents
Complementing your home with the addition of a manufactured stone veneer can sure make the front of your home that much better. Best of all, you dont need to cover a large area. Stone can be applied to a section of the front adding a nice accent for curb appeal. Whether you face the front foundation, entry door area or even the front living room wall, there are many varieties of stone and colors of stone that can mix well with your homes exterior. Read More….
Flooring
When designing your home remodeling project, homeowners should always take into careful consideration what type of flooring should be installed throughout the home. The flooring of choice for most homeowners in most cases is oak hardwood flooring. Hardwood flooring is extremely durable. You can finish it natural or stain it a color of preference. When we build add a level and home addition packages, the existing 1st floor hardwood is completely removed. Since the 1st floor walls are torn down, this leaves imprints throughout from the removed walls. Patching the flooring would not make sense. Tile flooring in certain areas such as the kitchen and entry foyers as well as baths needs to be considered as well…..Read More