Home Building Contractors in New Jersey
Are you and your family looking for Home Building Contractors in New Jersey? Pangione Developers Inc is a premier Home Building Contractor specializing in Major Home Remodeling Projects. Owner David Pangione hosts youtube channel REMODELINGHQ, showcasing and featuring over 900 Major Home Remodeling Videos filmed on location throughout New Jersey. As a Home Building Contractor in New Jersey, David Pangione also provides direct access to New Jersey residents with questions pertaining to their New Jersey Remodeling Project. Simply Click the " Ask Dave" button atop this web page and Dave will respond to your question remodeling question quickly.
Home Building Contractors – Information from Dave
Hello and thanks for stopping by this Home Building Contractors information site. David Pangione here, owner of Pangione Developers Inc.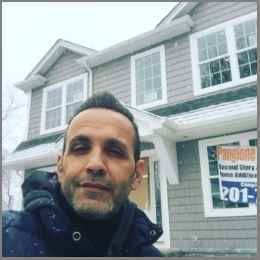 First off, my company Pangione Developers Inc specializes in entire home remodeling projects. If you searched "Home Remodeling Contractors in New Jersey" then you came to the right place. Our New Jersey home remodeling packages include adding second story additions otherwise known as a add a levels. We will add entire floors to double the size of your home. The existing 1st floor will be gutted, stripped down and completely remodeled also.
Better Business Bureau Accredited Business – Home Building Contractors in New Jersey
Pangione Developers is an A+ Rated Accredited Business located in Bergen County New Jersey. If you are searching for a New Jersey Home Building Contractor then you need to read our reviews. Based intirely on Major Home Remodeling Projects, see the amazing feedback from our customers. Read what they had to say about how their entire home remodel  was handled. Amazing!!!!!      CLICK HERE – Pangione Developers Inc BBB Reviews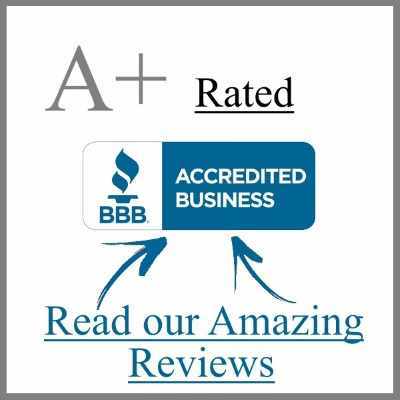 Our Video Site – NJ Home Remodeling Contractors
Earlier we mentioned our video channel – REMODELINGHQ, located on youtube. What a great place for New Jersey homeowners searching for Home Remodeling Contractors information to research and view extensive home remodeling by David Pangione of Pangione Developers. From the comfort of your home, David provides an over the shoulder view taking you insdie each home remodel filmed throughout New Jersey.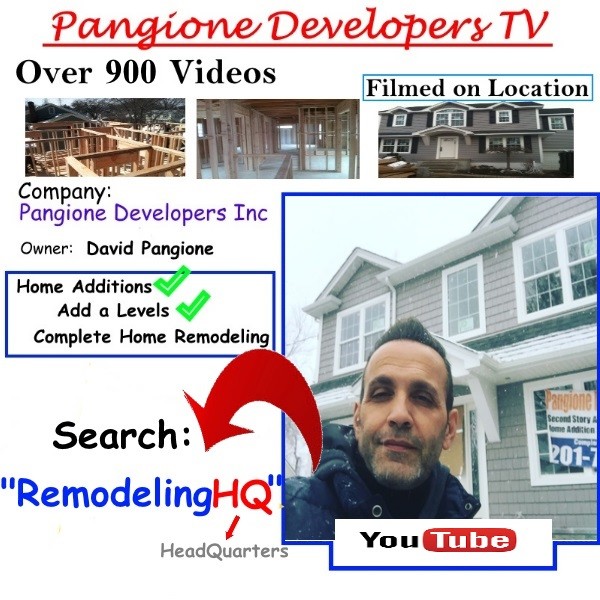 One Call – One Contractor Pangione Developers Inc
The bottom line: If you are looking for a home remodeling contractor that handles the entire build from start to finish- Ask Dave. Read our reviews and see for yourself the amazing feedback. Dave organizes the entire scope from beginning to end. All phases of the build are transparent, keeping each customer completely updated as the remodel progresses.
Technology:
When you sign up with Pangione Developers, each customer gets a direct line to reach Dave anytime of the day. Also, if you prefer texting or email, any form of technology is used to reach the Pangione Developers team.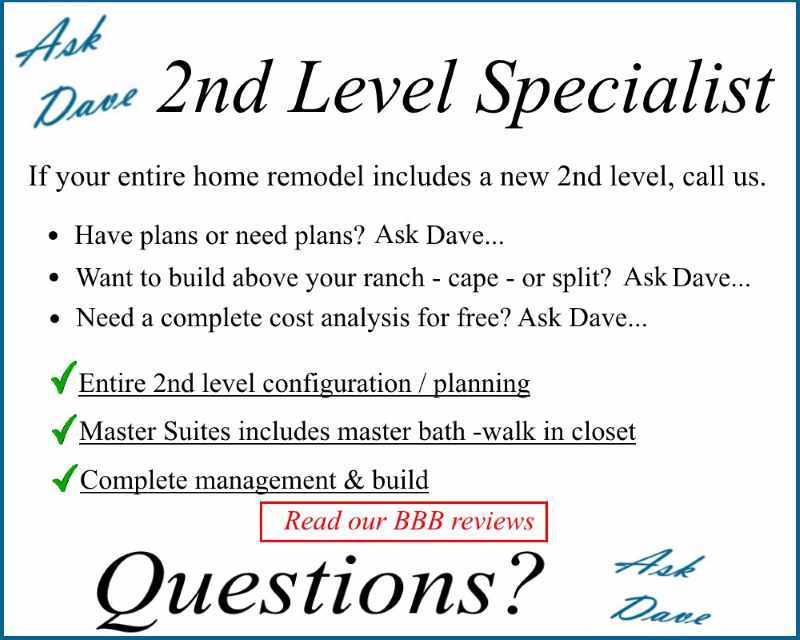 If you and your family are interested in building anywhere throughout New Jersey, Pangione Developers inc, a Bergen County Contractor offers complete Home Building Solutions. For your NJ Add a Level project- reach out to Dave for any of your questions
Call 201-774-3733
Remember to Ask for Dave. Also, simply press the " Contact Dave Now" button at the top of the screen. Dave will respond to your Major Home Remodeling questions quickly.
New Jersey Home Building Contractors
Home Building Contractors in Bergen County NJ
Home Building Contractors in Essex County NJ
Home Building Contractors in Hudson County NJ
Home Building Contractors in Morris County NJ
Home Building Contractors in Middlesex County NJ
Home Building Contractors interior painters
Home building contractors in bergenfield nj
Home Building Contractors in Dumont NJ
Home Building Contractors in New Milford NJ
Home Building Contractors in Fairlawn NJ
Home Building Contractors in saddle brook NJ
Home Building Contractors in Teaneck NJ
Home Building Contractors in cresskill NJ
Home Building Contractors in Glen Rock NJ
Home Building Contractors in Secaucus NJ
Home Building Contractors in Verona NJ
Home Building Contractors in cedar grove NJ
Home Building Contractors in Park Ridge NJ
Home Building Contractors in Montvale NJ
Home Building Contractors in Woodcliff Lake NJ
Home Building Contractors in Oradell NJ
Home Building Contractors in Norwood NJ
Home Building Contractors in Northvale NJ
Home Building Contractors in Old Tappan NJ
Home Building Contractors in Demarest NJ
Home Building Contractors in Haworth NJ
Home Building Contractors in East Rutherford NJ
Home Building Contractors in Englewood NJ
Home Building Contractors in Harrington Park NJ
Home Building Contractors in Leonia NJ
Home Building Contractors in Rivervale NJ
Home Building Contractors in Ramsey NJ
Home Building Contractors in Mahwah NJ
Home Building Contractors in Paramus NJ
Home Building Contractors in Saddle River NJ
Home Building Contractors in NJ
Home Building Contractor in NJ
Home Building Contractors in New Jersey
Home Building Contractors in Bergenfield New Jersey
Home Building Contractors in Allendale New Jersey
Home Building Contractors in Allendale New Jersey
Home Building Contractors in ALpine New Jersey
Home Building Contractors in Bogota New Jersey
Home Building Contractors in West Caldwell New Jersey
Home Building Contractors in Cedar Grove New Jersey
Home Building Contractors in Cliffside Park New Jersey
Home Building Contractors in Clifton New Jersey
Home Building Contractors in Cresskill New Jersey
Home Building Contractors in Demarest New Jersey
Home Building Contractors in Dumont New Jersey
Home Building Contractors in East Rutherford New Jersey
Home Building Contractors in Edgewater New Jersey
Home Building Contractors in Emerson New Jersey
Home Building Contractors in Englewood Cliffs New Jersey
Home Building Contractors in Englewood New Jersey
Home Building Contractors in Fair Lawn New Jersey
Home Building Contractors in Fairfield New Jersey
Home Building Contractors in Fairview New Jersey
Home Building Contractors in Fort lee New Jersey
Home Building Contractors in Franklin Lakes New Jersey
Home Building Contractors in Garfield New Jersey
Home Building Contractors in Glen Rock New Jersey
Home Building Contractors in Hackensack New Jersey
Home Building Contractors in Harrington Park New Jersey
Home Building Contractors in Hasbrouck Heights New Jersey
Home Building Contractors in Haworth New Jersey
Home Building Contractors in Hawthorne New Jersey
Home Building Contractors in Ho Ho Kus New Jersey
Home Building Contractors in Leonia New Jersey
Home Building Contractors in Little Falls New Jersey
Home Building Contractors in Little Ferry New Jersey
Home Building Contractors in Lodi New Jersey
Home Building Contractors in Lyndhurst New Jersey
Home Building Contractors in Mahwah New Jersey
Home Building Contractors in Maywood New Jersey
Home Building Contractors in Midland Park New Jersey
Home Building Contractors in Montvale New Jersey
Home Building Contractors in New Milford New Jersey
Home Building Contractors in New York NY
Home Building Contractors in Northvale New Jersey
Home Building Contractors in Norwood New Jersey
Home Building Contractors in Nutley New Jersey
Home Building Contractors in Old Tappan New Jersey
Home Building Contractors in Oradell New Jersey
Home Building Contractors in Paramus New Jersey
Home Building Contractors in Park Ridge New Jersey
Home Building Contractors in Ramsey New Jersey
Home Building Contractors in Ridgefield Park New Jersey
Home Building Contractors in Ridgefield New Jersey
Home Building Contractors in Ridgewood New Jersey
Home Building Contractors in River Edge New Jersey
Home Building Contractors in Rivervale New Jersey
Home Building Contractors in Rochelle Park New Jersey
Home Building Contractors in Rutherford New Jersey
Home Building Contractors in Saddlebrook New Jersey
Home Building Contractors in Saddle River New Jersey
Home Building Contractors in Secaucus New Jersey
Home Building Contractors in South Hackensack New Jersey
Home Building Contractors in Teaneck New Jersey
Home Building Contractors in Tenafly New Jersey
Home Building Contractors in teterboro New Jersey
Home Building Contractors in Totowa New Jersey
Home Building Contractors in Verona New Jersey
Home Building Contractors in Waldwick New Jersey
Home Building Contractors in Washington Township New Jersey
Home Building Contractors in Westwood New Jersey
Home Building Contractors in West Caldwell New Jersey
Home Building Contractors in Wood Ridge New Jersey
Home Building Contractors in Woodcliff Lake New Jersey
Home Building Contractors in Wyckoff New Jersey
Home Building Contractors in New Jersey
Home Building Contractors in New Jersey
New Jersey Home Building Contractors
NJ Home Building Contractors
Allendale NJ Home Building Contractors
Alpine NJ Home Building Contractors
Bergenfield NJ Home Building Contractors
Bogota NJ Home Building Contractors
Caldwell NJ Home Building Contractors
Carlstadt NJ Home Building Contractors
Cedar Grove NJ Home Building Contractors
Cliffside Park NJ Home Building Contractors
Clifton NJ Home Building Contractors
Cresskill NJ Home Building Contractors
Demarest NJ Home Building Contractors
Dumont NJ Home Building Contractors
East Rutherford NJ Home Building Contractors
Edgewater NJ Home Building Contractors
Emerson NJ Home Building Contractors
Englewood Cliffs NJ Home Building Contractors
Englewood NJ Home Building Contractors
Fair Lawn NJ Home Building Contractors
Fairfield NJ Home Building Contractors
Fairview NJ Home Building Contractors
Fort Lee NJ Home Building Contractors
Franklin Lakes NJ Home Building Contractors
Garfield NJ Home Building Contractors
Glen Rock NJ Home Building Contractors
Hackensack NJ Home Building Contractors
Harrington Park NJ Home Building Contractors
Hasbrouck Heights NJ Home Building Contractors
Haworth NJ Home Building Contractors
Leonia NJ Home Building Contractors
Little Falls NJ Home Building Contractors
Little Ferry NJ Home Building Contractors
Lodi NJ Home Building Contractors
Lyndhurst NJ Home Building Contractors
Mahwah NJ Home Building Contractors
Maywood NJ Home Building Contractors
Midland Park NJ Home Building Contractors
Montvale NJ Home Building Contractors
New Milford NJ Home Building Contractors
Northvale NJ Home Building Contractors
Norwood NJ Home Building Contractors
Nutley NJ Home Building Contractors
Old Tappan NJ Home Building Contractors
Oradell NJ Home Building Contractors
Palisades Park NJ Home Building Contractors
Paramus NJ Home Building Contractors
Park Ridge NJ Home Building Contractors
Ramsey NJ Home Building Contractors
Ridgefield NJ Home Building Contractors
Ridgefield Park NJ Home Building Contractors
River Edge NJ Home Building Contractors
River Vale NJ Home Building Contractors
Rivervale NJ Home Building Contractors
Rutherford NJ Home Building Contractors
Saddle Brook NJ Home Building Contractors
Saddle River NJ Home Building Contractors
Secaucus NJ Home Building Contractors
South Hackensack NJ Home Building Contractors
Teaneck NJ Home Building Contractors
Tenafly NJ Home Building Contractors
Teterboro NJ Home Building Contractors
Verona NJ Home Building Contractors
Waldwick NJ Home Building Contractors
Washington Township NJ Home Building Contractors
Westwood NJ Home Building Contractors
West Caldwell NJ Home Building Contractors
Wood Ridge NJ Home Building Contractors
WoodCliff Lake NJ Home Building Contractors
Wyckoff NJ Home Building Contractors
NJ Home Building Contractors
Pangione Developers NJ Home Building Contractors
Pangione Developers Inc NJ Home Building Contractors