ADD A LEVEL NJ
Add a Level NJ by Pangione Developers is a One Call-One Contractor provider of Major Home Remodeling Add a Levels in New Jersey. If you live in New Jersey and interested in a Complete Add a Level NJ project where your General Contractor will handle the entire design & build then call Dave.
Add A Level – Why Call Pangione Developers Inc?
Owner David Pangione offers New Jersey residents via this website instant access for answers to your Add aLevel Questions. Simply click the "Ask Dave " button and send Dave your questions regarding your add a level project. Responses are lightning quick. Also David hosts a top rated video channel on youtube called RemodelingHQ. Here David showcases over 900 Major Home Remodeling Videos all filmed on location in New Jersey.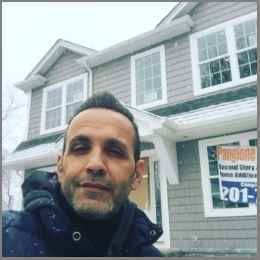 As mentioned, Pangione Developers specializes in Major Home Remodeling. Each home remodel incorporates an add a level into the scope. You can read David's Amazing Reviews on our Better Business Bureau Site ( Pangione on BBB ). Here our customers speak in great detail of their Amazing Experiences with Pangione Developers. Keep in mind that all the reveiws are based on Major Home Remodels.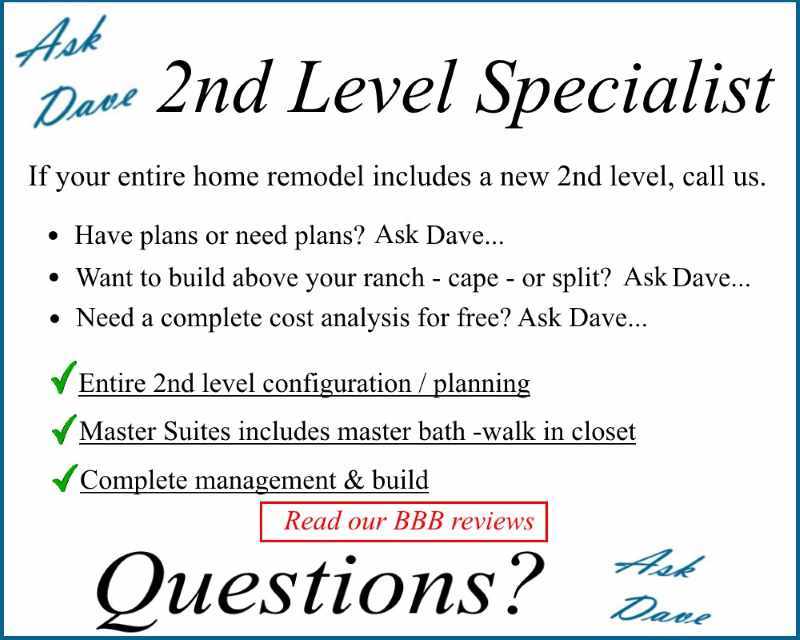 What is an Add a Level?
Add a Level is simply removing the old roof and then adding a new level with a new roof structure above. The entire new level added will now incorporate the beds and bathrooms. Popular add a levels configurations mainly consist of a Grand Master Suite and 2-3 additional bedrooms. The master suite many times will have its own master bath and large closet areas. The additional bedrooms will share a common bath located in the hall.
Is My Home Suitable For An Add a Level?
What types of homes can you add a level to? Here in Bergen County NJ, we add levels to 3 types of homes.
Cape Cods
Ranch
Split Levels
Cape Cod style homes here located in New Jersey typically already have 1-2 smaller rooms located on the less than functional existing top floor. The main problem with the cape cods is that the ceilings are low and slanted. This style will consume the usable living space upstairs. You also literally lose access to approximately 4′-6′ of the front and rear floor areas. One positive though is that the existing floor beams system in place is usually sufficient to immediately build above with your new add a level.

About the above photo:
Here Dave completely remodeled this home for a young New Jersey family. You can see the dramatic turnaround. Dave added a 12′ addition out the rear of the home which spanned the entire length of this house. We incorporated the add a level with the addition thus expanding the add a level out 12′ also.
The entire interior was also transformed. The 1st floor is an open concept with a full open kitchen. The basement was completely overhauled and serves as a media room and lounge.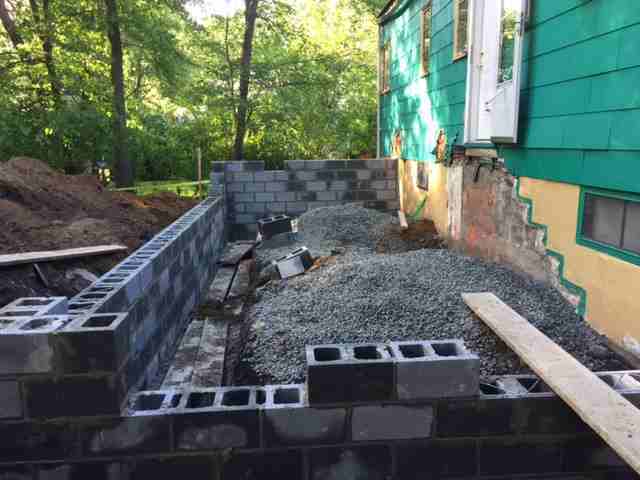 Here you can see the rear foundation being added onto this cape cod home. In Bergen County NJ, there are many codes that need to be followed in order for your add a level project to run smoothly. David and his team make sure that each and every code is followed. This is one of the reasons his Major Home Remodels run efficiently.
Add A Level Open Floor Plan
The great thing about the add a level renovation is that now the bedrooms and bathrooms are brought upstairs. This enables you to create an open floor plan on the 1st floor. When you add a level to a house, it's usually a family that needs to expand due to lack of room. Add a Levels allows you to create that open 1st floor. Many homeowners really can't perceive how cool their 1st floor can become.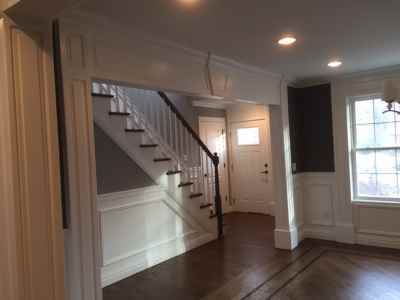 Our open floor plans begin with a beautiful flow allowing our New Jersey customers to utilize and maximize their space. Here you can see the new entry leading into the foyer and dining room area. Notice the extensive custom trimwork.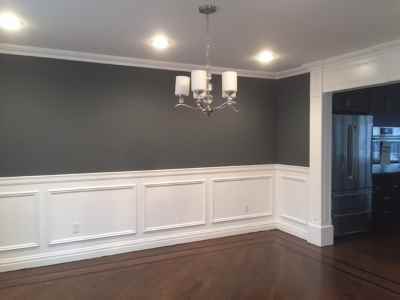 Notice the custom wall boxes with chair rail. This combination makes any dining room stand out. Both pictures above incorporate hand made arch and window panel wraps. Also, you can see the framed floor box with a dual walnut border incorporating the flooring on a 45 degree angle in the center of the floor box.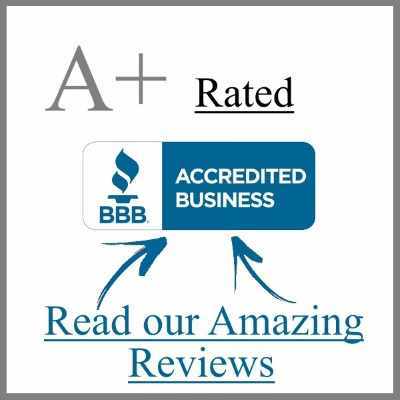 Kitchen Renovation – Add a Level
Some say that the most important room in the home is the kitchen. The entire family throughout the day spend most of their time together in the kitchen. As part of an open floor plan, your add a level allows for the 1st floor to be opened up. This enables you to focus on creating an amzing kitchen layout.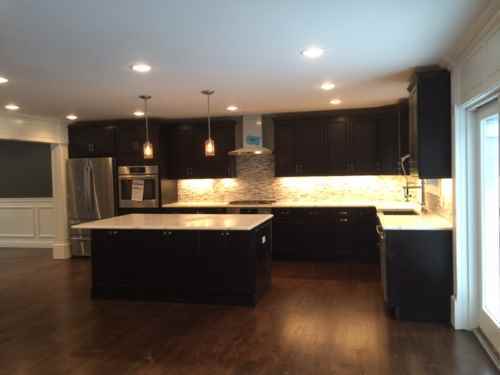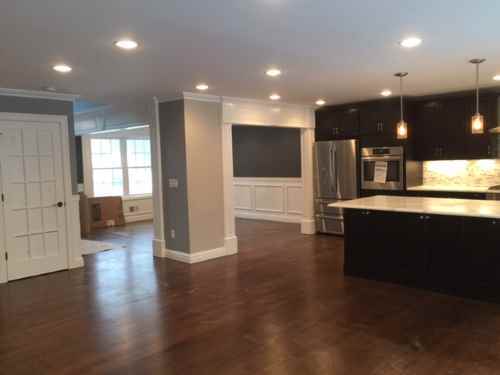 Maximizing your floor plan is part of the Design & Build process that Dave offers. In this kitchen, Dave installed all Bosch appliances inlcuding:
Carriage style Refridgerator
2 Wall Ovens
1 Cook top
Farm sink
Garbage disposal
Oversized island
Island microwave
Island wine cooler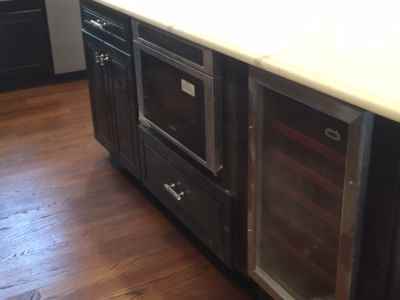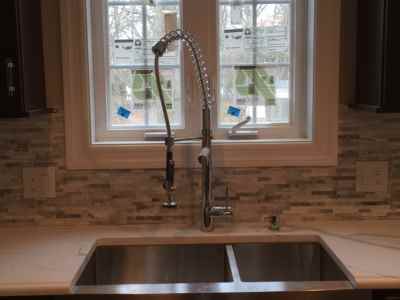 Add a Levels – Finishing The Basement
One of the most underutilized areas of the home is the basement however your add a level project can incorporate a beautiful new finished basement. We break the entire contents of the basement down to the core 4 masonry walls. From here, everything is new including a new french drain which will prevent any flooding if it were to occur. Incorporating a finished basement can provide needed space for entertaining, storage and makes a great kids play area.
Did you know that Pangione Developers is a BBB Accredited Business – Contractors in Bergen County NJ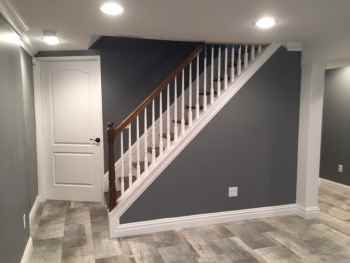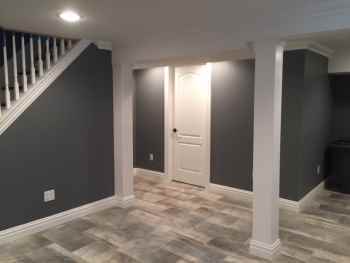 Master Bedroom Suite – Add a Level NJ
Besides the kitchen, the master bedroom suite is a big focus for New Jersey homeowners looking to remodel with an Add a Level project. Your add a level project will include the bedrooms to be relocated to the new top floor. Our master suite configurations the very least will include an oversized master bedroom and sizeable closet space. If your add a level project floor plan allows, we can make your suite into a room that you will not want to leave in the morning.
For the most part, many of our master suites include that master bathroom and walkin closet/s. The master bath usually consists of:
His / Her sinks
Custom Shower
Soak Tub
Private toilet
The master bedroom suites will include a high ceiling line with plenty of mouldings throughout. Don't forget the recessed lighting in your add a level nj.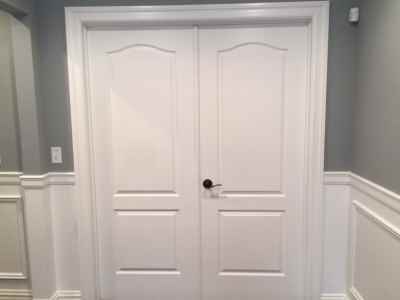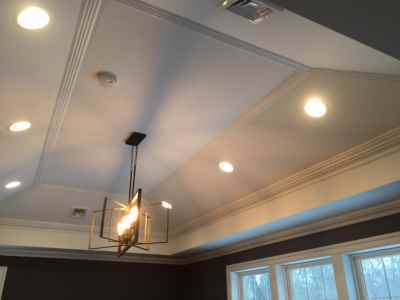 Here you can see this double door intry into theis master suite. Next is the 10′ tray ceiling wrapped in trim and crown mouldings.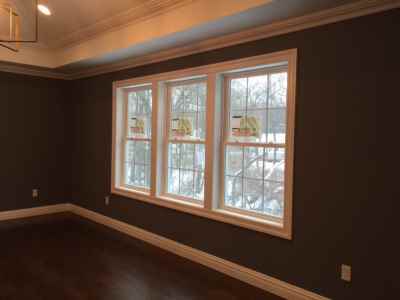 Yes we take care of it all. Your add a level NJ project is organized and run by David Pangione. If you are looking for Complete Home Remodeling in New Jersey, call Dave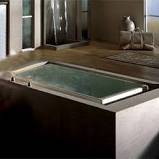 Here are a few more pictures of the master bedrooms bath suite. We installed a custom shower with a full clear glass enclosure. Also we allowed an area for a 6′ soak tub.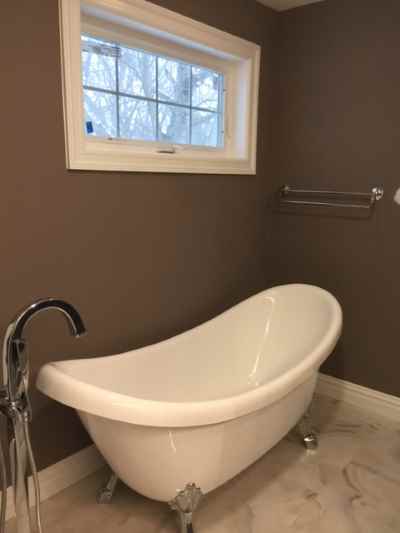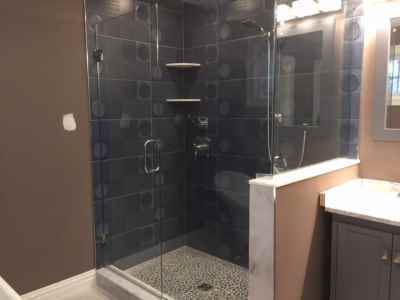 As you can see, we really put a lot of time and work into all of our add a level projects.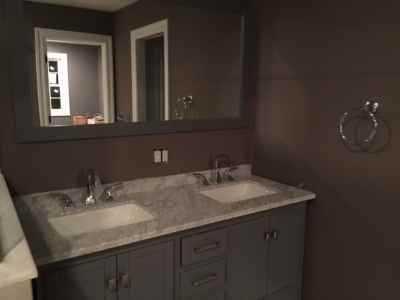 For More Information – Ask Dave
Click on the "Contact Dave" button for instant responses to your New Jersey Add a Level Questions.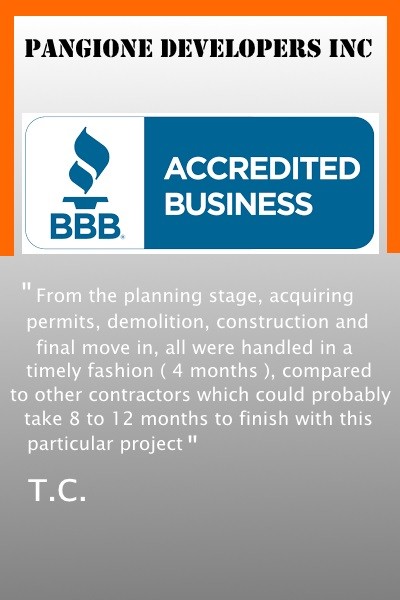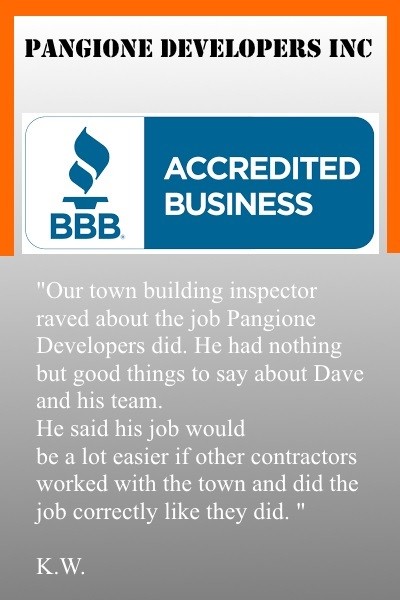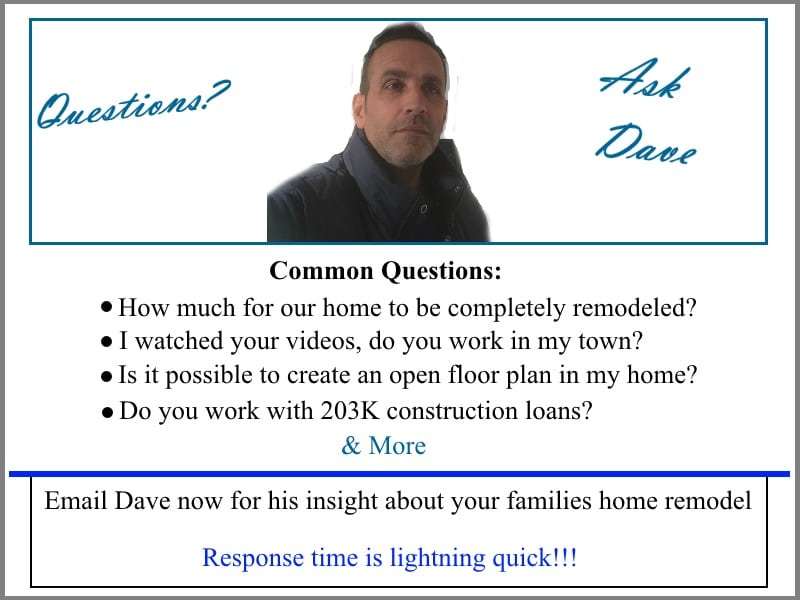 Or call 201-774-3733
See Dave's Latest Remodel Blog Post: